Going on a vacation and don't want to risk losing your luggage? Then you may be interested in learning the art of packing light. Traveling with carry on only can easily cut down thirty to forty minutes of waiting time at the airport.

 

According to TSA, carry-on cannot exceed a linear dimension of 46 inches. By traveling light with carry on bags only, you can escape the fiasco of check-ins on departure and baggage claim on arrival. As part of our family travel secrets, learn how to pack all your needs into two suitcases or less! Or better still, pack light and travel with carry on only.

In this article, we share the most important packing tips for traveling and packing light in the hope to empower you to plan for your next stress-free family vacation.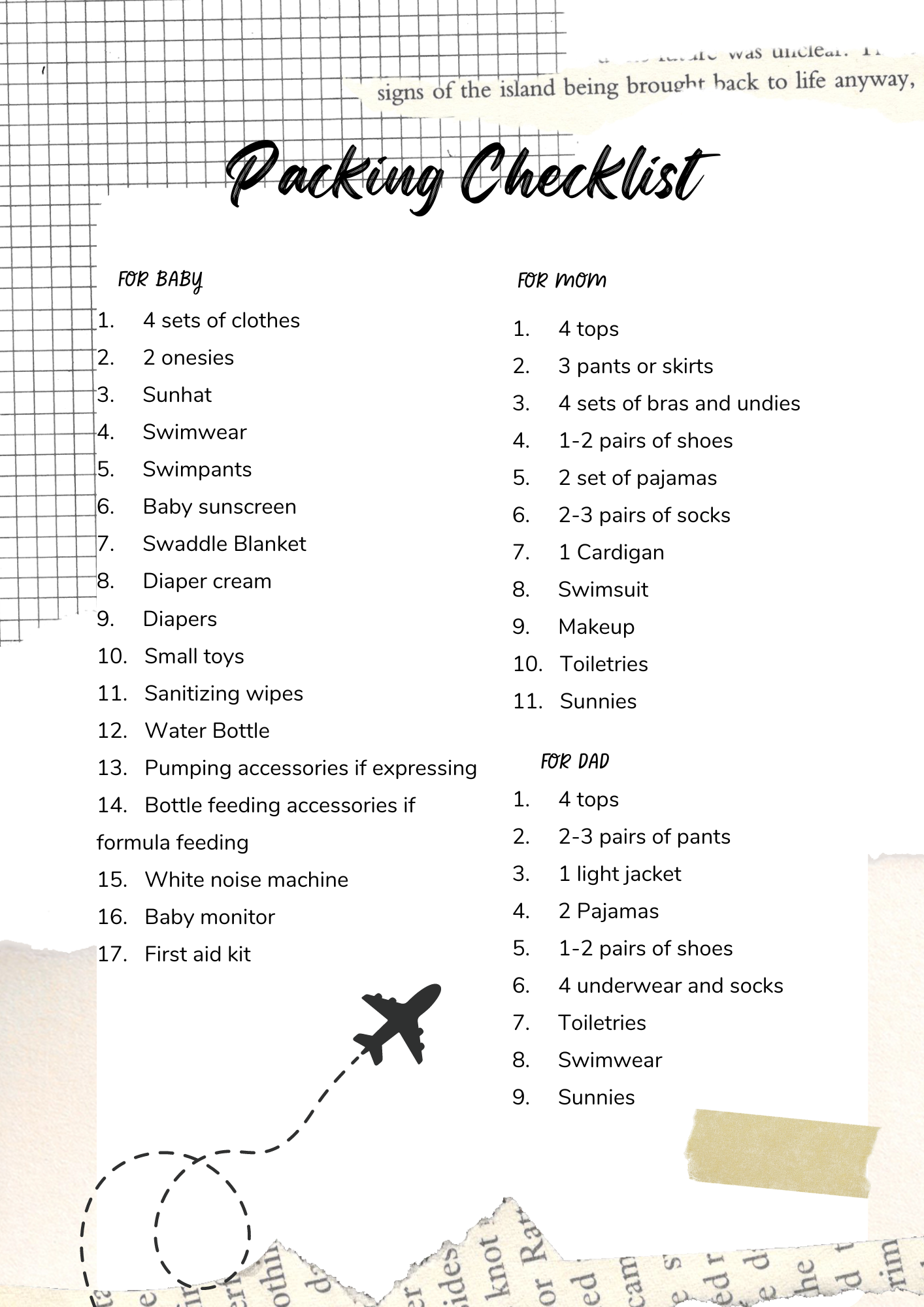 Table of Contents
When traveling with babies and toddlers, packing light can be challenging. Therefore, it's essential to plan ahead and make a packing list that includes all the necessary items for your trip. Have a list of what to pack in your carry on and if you have checked luggage have a separate list for your checked baggage.
Pack Smartly
In addition to creating a packing list tailored specifically towards parents flying with babies and toddlers; consider how you'll organize everything inside your luggage. Using packing cubes or compression packing cubes to help save precious packing space while at the same time keeping similar items together. With this, you will be able to search through your carry on bag with ease.
Research Family-Friendly Airlines
Not all airlines are created equal when it comes to accommodating families with young children. Research carriers that offer special services like family seating areas, kid-friendly meals, and onboard entertainment options that cater specifically to the needs of parents traveling with babies and toddlers. Be sure to research different airlines before booking your flight so you can choose the one that best suits your family's needs.
2. Gear up with Accessories
This means bringing only the necessary items that will make your journey more comfortable for both you and your little ones.
Carry On Stroller
Choosing a lightweight stroller designed specifically for travel can save space and make getting around easier. Look for one that fits in the overhead compartment, like the TernX Carry On bag. It is a carry on luggage as well as a travel stroller. With this option, packing light will be easier as it eliminates the need of bringing an extra carry on.
Baby Carrier or Sling
A baby carrier or sling is a life saver when navigating airports or exploring new destinations on foot. A baby carrier keeps your little one safe and frees your hand while giving you the freedom to move around.
Diaper Backpack for Travel
A diaper backpack allows you to pack everything you need with you for your flight. If you are exclusively breast pumping, you are allowed to bring an additional bag as your breast pump bag. However, to travel light, consider combining your diaper backpack for travel and breast pump accessories in the same carry on bag. You will have to pack light and bring the essentials only.
Travel-friendly Snacks & Feeding Supplies
Whenever traveling on a long trip, pack snacks that are easy to transport and won't create a mess, such as cereal puffs or dried fruit. Bring extra food in your carry on suitcase for your little one.
Entertainment Options
It is important to pack light, but at the same time, it is also essential to pack a few small toys or activities that will keep your little one entertained during long flights or layovers. Think about coloring books, sticker sets, or even an ipad loaded with your child's favorite educational show. Place these items in your carry on for easy access.
3. Roll Your Clothes Up
One of the travel light tips to save space in your luggage and make packing light for family travel is to roll your clothes up instead of folding them. When you pack light and use this technique, you will be able to accommodate more items and take up less space. It also stops wrinkles and creases on your clothing.
To roll your clothes effectively, follow these simple steps:
Lay each item flat on a clean surface.

Fold any long sleeves or pant legs inward so that they align with the edges of the garment.

Starting at one end, tightly roll the clothing until you reach the other end.

Place rolled-up garments neatly in your carry on suitcase or backpack, making sure to fill any gaps between items efficiently.
For bulkier items such as jackets or sweaters, use compression packing cubes to further reduce their size before packing. Otherwise, another packing tip is to wear your jacket on you so that the jacket doesn't take up extra space in your carry on.
4. Pack Shoes That Are Interchangeable
To pack light and travel light, one of the packing tips is to pick shoes that can be used in multiple outfits and activities. This not only saves space in your luggage but also ensures you're prepared for any situation. Keep your shoes in a plastic bag or bag organizer to keep your carry on suitcase organized.
Tips for choosing the right shoes:
Choose comfortable shoes that provide support for both parents and children, especially when walking long distances or exploring new places.

Pack a pair of waterproof sandals or flip-flops for beach days, pool time, or even rainy weather.

Select lightweight sneakers that doubles as your hiking boots for casual outings or playground visits.

Consider slip-on shoes as they are easy to put on and take off while going through airport security checks or when changing outfits quickly.
5. Pack Versatile Clothing
Pack light by packing versatile clothing for your baby or toddler. This is essential when traveling and packing light. Mix and match clothing to help save space in your carry on luggage while ensuring your little one has enough outfits for the trip. Here are some tips on how to pack smartly for your carry on:
Choose neutral colors: Opt for clothes in neutral shades like white, black, gray, and beige as they can easily be paired with other items.

Select multi-purpose garments: Items such as onesies or rompers work well because they can serve as both sleepwear and daytime attire.

Incorporate layers: Dressing your child in layers allows you to adapt their outfit according to the weather conditions without needing additional bulky clothing pieces. For example, a long-sleeve shirt under a short-sleeve tee will keep them warm during cooler temperatures but can also be worn separately if it gets warmer.

 
6. Minimize Bulk
Smart packing can help you avoid bringing too much while still ensuring that all necessary items are taken on the trip. To pack light, you can choose lightweight materials like microfiber or linen. Bringing lightweight clothing in your carry on means more space for you to pack more personal item.
Avoid Overpacking
To pack lighter, stick to your packing list and resist the temptation to bring extra "just in case" items. Remember that most destinations will have stores where you can purchase any forgotten essentials or replenish supplies as needed.
Select Multi-Purpose Items
Incorporate multi-purpose items into your packing routine whenever you pack light. For example, choose a baby blanket that doubles as a beach towel or nursing cover. This way, you'll travel light and save space without sacrificing functionality.
7. Bulky items on top
For easy access and organization, pack clothes that are bulky on top of your carry on luggage. This not only helps in keeping everything organized but also makes it easier to access these items during your journey.
8. Lose Extra Baggage
To make your journey easier, packing light and reducing the amount of carry on luggage and checked luggage will help immensely. By reducing the number of items you bring, this helps you travel light and your journey will be smoother. You will be packing light which also saves money by reducing excess baggage fees.
Considering renting equipment at your destination. Enquire with the hotel or accommodation as many offer baby cribs and high chairs. You can also research rental services and rent baby gear or car seats if required.
Packing Lighter for a Stress-free Vacation
In conclusion, traveling and packing light for your next trip is achievable when it comes to traveling with babies and toddlers. Consider bringing carry on only. Be prepared. Make a packing list, reduce bulkier clothing by using compression bags, travel light by reducing weight of your luggage and you will be able to pack efficiently and travel light.
Packing light and traveling light means less luggage to keep an eye on, which also means less stress for you. Plan traveling light for your next trip and enjoy your journey.
Well, that's it, as easy as 1-2-3. If you are traveling with a stroller check out our guide to flying with a stroller. Included in the guide is 50 airline stroller policy to help you along the way.
Hope you found these tips helpful.
Have a wonderful day wherever you are and safe travels.